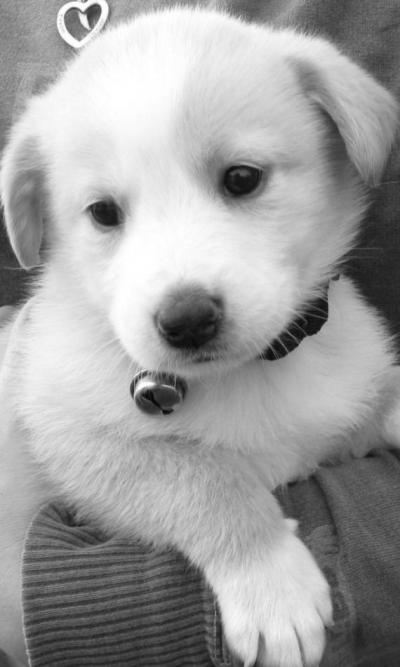 Hey Camp Doggone furry friends and family members. We are launching our First Annual Doggy Story Contest With COOL PRIZES and…WE NEED YOUR HELP!
It is very exciting because entries are now streaming in - and they are all great stories - but we need even MORE stories - deadline extended to November 18th 2011 so please, please, please get your stories in this week!!!!
Over the years we have heard some amazing stories from our Doggone families about the special place their dogs hold in their heart.
We know you are devoted doggy owners and you love your dogs dearly.
Now we want to give you a chance to share with the world what makes your furry friend so special !
We want your best doggy stories. They have to be true. They have to be printable and.... please send us a nice clear jpeg photo of the dog featured in the story.
Some inspiration for you - perhaps a story about how important your dog is to your family, maybe your happiest doggy story, funniest doggy story, saddest doggy story, most embarrassing or challenging dog story, most romantic doggy story, most touching doggy story, best trained dog...the story of how your dog came to live with your family and more.
There are cool prizes to win.
All participants get their name entered for a free bone bundle. Valued at $20
First place winner gets a choice of a complimentary 7 visits of daycare (to be used within two months of first visit) or a set of group classes.Valued at $170.
Second place winner gets a choice of 4 complimentary daycare visits (to be used within one month of first visit) or a mini course or workshop. Valued at $80.
Third place winner gets a choice of 2 complimentary days of daycare (to be used within one month of first visit) or a $40 voucher off the price of a set of group classes. Valued $40
All prizes contingent upon eligibility for the selected service. No cash value. All dogs attending daycare and classes must be up to date on DHLPP and bordatella (kennel cough). Prizes expire within one year of closing date of contest.
Doggone it we want to hear your stories. This is your  dog's chance to be in the limelight and be immortalized in the Camp  Doggone Annual Story Contest.
We will print your entries in a special place on our website along with your dog's photo.
To vote click on contact us or send an email to This e-mail address is being protected from spambots. You need JavaScript enabled to view it  using the subject line Doggone Story Contest and identify by number and title your choices for #1, #2, #3 spot.
One vote per email address please.
Please tell your friends and family members to check out the stories and to vote for their favourites as well.
Send us your stories along with jpeg photo to :  This e-mail address is being protected from spambots. You need JavaScript enabled to view it
Contest closing date is Nov 18th, 2011 and voting will take place up until Wednesday November 23rd with the winners announced on Friday November 25th.
Hope to read about your furry family member soon!
Shelley, Andrea, Amber, Tarah, Luc & Doggone team members & our assorted furry critters
Doggone Story Contest Entries 2011
Read on for some great doggy stories...... remember voting starts after midnight November 18th and continues to midnight November 23rd with winners announced Nov 25th - one vote per email address please :)
The Grrrreat Politician - Karen Court - October 27-2011
Four years ago, there was a Grrrreat little Boston Terrier born with a fault.  But I didn't care, he was cute and and he was the one I wanted to have.  He was born in Pointe-a-la-Croix, Québec-La Belle Province!  He was six months old when I got him.
How he got his name was because my boyfriend loves cars so much, I thought it only fitting to call him Cooper-hence Cooper Tires.
He was born with a crooked lip.  When he was a puppy you didn't notice it as much, but now you can notice it more.  His bottom lip on the left side seems to overbite the top one and goes up a little on the same side.  It was the vet who noticed it and nicknamed him Jean Chretien-former Prime Minister.
So on he goes with his crooked lip and crooked tail. He loves to play - his favourite toys are balls and his funky rubber chicken.  When I am watching TV, he loves to have a warm blanket (from the dryer) on the couch amongst all the pillows where he can cuddle close to me and get his petting time.
But when he takes a freak to play or get into trouble, he jumps up and makes a grab for my hair and tries to pull it.  Or he will try to bit my feet if I try to move them under the blankets.  When you're not looking, he'll sneak off to the bathroom and haul out any Kleenex or toilet paper he can grab and tear it to bits and pieces.  What a mess, but I love him anyway.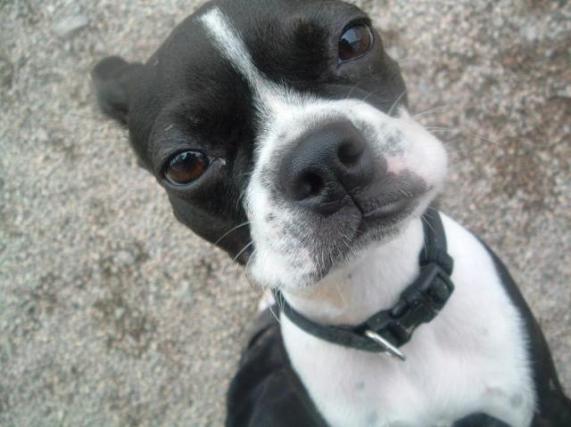 He might not be the next Prime Minister, but he could end up being the next Super Dog!
Have a Grrrreat Day!
Karen Court
Mom to Cooper Boston
Shelby's Story - Cindy & Danny - November 9, 2011
Ok, so I admit, before owning a dog, I didn't get people who had their pets in "daycares" or "play centers".  I could not understand why someone would invest in daycare for a dog. After getting Shelby, I quickly found out…
Shortly after buying our own house, Danny and I decided to start looking for a dog of our own (mostly due to my constant begging and coaxing :)
After doing some searching I was really interested in Shelby's litter and met some of the pups, and I fell for Shelby right away. I told the owner that we would be away for the weekend but would get in touch with her Tuesday.
After an 11 hour drive from Montreal to Moncton Thanksgiving Monday, I got a message from her asking if I could take Shelby that night, otherwise she'd have to sleep outside by herself as all the other pups were gone. (This was October, at least a few degrees below zero overnight).
All I could think about was that adorable little face looking at me and without a second thought I hopped in my car and drove to Salisbury to pick her up, even though I had just driven all day long.
It was cold so I stuffed her in my hoodie and she looked at me with those big brown eyes, nuzzled up and went to sleep… I knew right away there was no other dog for me. I sat in the parking lot for 20 minutes not wanting to disturb her.
We weren't ready for a puppy that night, all we had was a blanky and food dish, but we managed to build a "kennel" with a TV stand (which she slept in for months by choice!), coffee table tipped sideways and boxes… fast forward a few weeks and we  realized we had no idea how to properly raise a puppy!  How much time, energy and training she would require!
A friend told me about Doggone Pawsitive, I shrugged him off, but he explained the training classes and how "Pawsitive" re-enforcement worked.
I was curious so I called and chatted with Jill, who invited me to come check it out. I saw the facilities and knew right away that this was a great place. The staff was friendly, I could see dogs running and playing in the back and it seemed very relaxed and comfortable.
So, after puppy kindergarten (which is a must for new puppy parents!!) and countless days of daycare, Shelby is now an amazing dog.  She's a huge part of our family, she's our best friend, full of love and affection and thanks to Doggone she's well socialized and trained.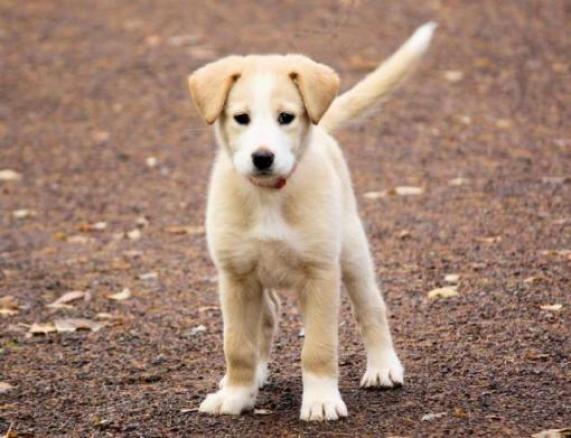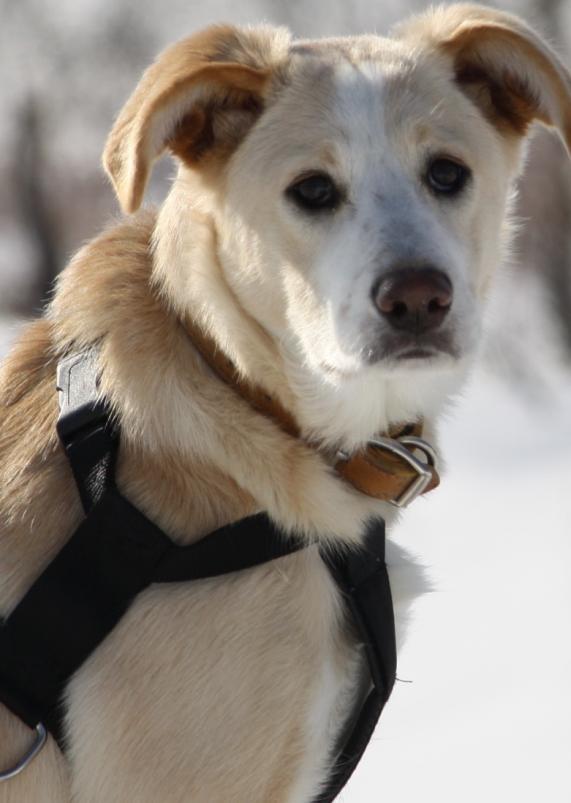 I'm now a big time believer! I recommend doggy daycare and specifically Doggone Pawsitive to all my dog-owner friends!
Cindy Roy
Shelby's Mom
A Dirty Day for Dog Walking - Ron & Denise - November 14, 2011
Hi everyone at Doggone Pawsitive, I had to share today's funny story -  I think, not Ron so much.... Ha haa...
This afternoon, Ron took the 3 dogs for their usual daily exercise, a walk around the neighbourhood, Abby  (St. Bernard) ,  Keisha (Great Dane)  & our new addition, Tate ( a large mixed breed) .... I wasn't feeling well, as usually I'm the one that walks Tate. He's not well trained yet to walk on leash, but our 2 big girls are perfect -  when there is a dog coming their way, they get a biscuit & nothing happens.
So today, well of course the 3 dogs decide to have a poooooo, so Ron picks it up, holds on to the huge bag as you can imagine... and off he goes. Then Tate saw a dog in front of them, so he starts to pull hard, the leash got loose & off he went wanting to play with this dog. The owner was screaming and Abby & Keisha decide -  ok, let's go play, so they are pulling Ron down the road on Rennick. The bag of pooh is flick a flacking all over him, bag torn, and guess where the poo ended up?  Ron is on the ground & Abby & Keisha are just dragging him.... while Tate comes back & licks Ron's face, then goes back to the other dogs.
There were cars that stopped to see if Ron was ok, but as soon as they saw the pooooo all over him, I guess it turned into laughter...  When you think about it, there was over 425 lbs of dog, and Ron's 185 lbs, soooo it was a lesson learned - always be two of us walking our babies. A  little laugh for the staff !!! Hahaa...
Ron & Denise
Abby, Keisha & Tate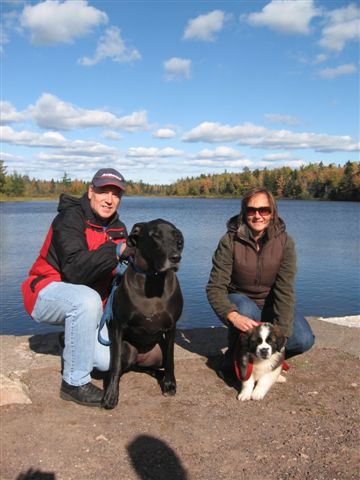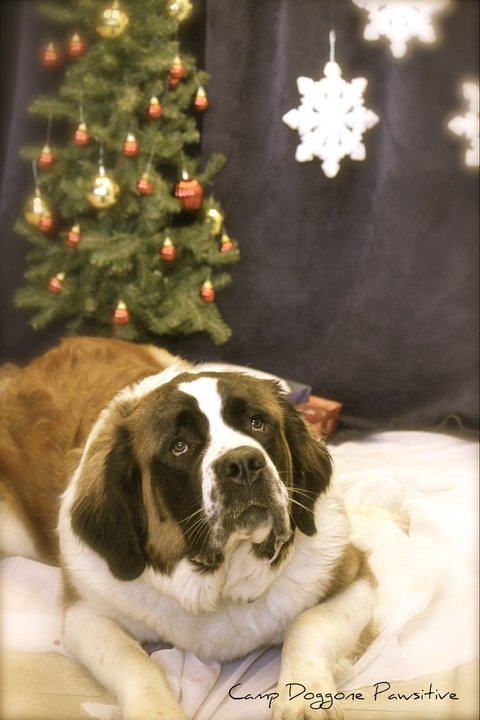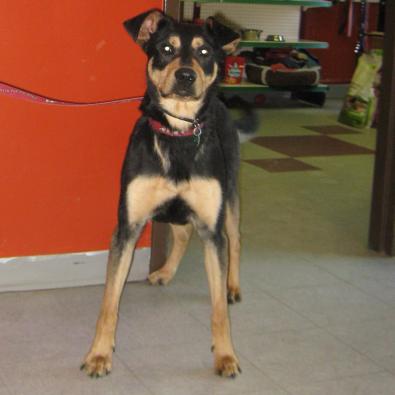 Oliver's Story - Charline & Sean - November 14, 2011
Oliver was the cutest little chocolate poodle ever… he looked like a live teddy bear with his chocolate colored fur and caramel colored face and paws. Oliver had the cutest little habits… he would collect Sean's socks and bring them to his bed, which he'd build with Sean's dirty clothes. The smell of them must have been soothing to him. And he'd always bury imaginary bones in the couch… it was the cutest thing to watch.
When Oliver was around 6 months, he got really sick suddenly. He spent three days at the vet, on IV and medication. They told us he'd had a kidney failure and that his immune and nervous system had been impacted. He would require 2 pills a day for the rest of his life to maintain a quality of life.  If we happened to forget his pills even for one day, Oliver would begin throwing up and he'd walk around with his head and tail really low, like a scared little puppy. Needless to say, Oliver was a special little dog and he needed his medication to survive.
A year later, we went to Bar Harbor for a few days and needed to find a place for Oliver. Being a very nervous dog even with his medication, we didn't want to leave him in a kennel, so we asked a friend of ours to keep him while we were away.  It rained for weeks that June.  Apparently, the evening prior to our return, Oliver was let out, but he didn't return. We don't know if he got confused or scared due to the heavy rain, or maybe he ran away to find us…. Our friends stayed up all night trying to find him, but unfortunately, Oliver could not be found.
We arrived home the very next day, on a Friday. We immediately contacted the SPCA to create a missing pet profile and the local radio station to help us find Oliver. We even posted Oliver's picture around the area with a reward to further assist our search. We clearly mentioned that Oliver was a sick puppy and he needed his medication to survive.
On Saturday night, someone noticed Oliver in their yard and called the SPCA. This was the light at the end of the tunnel. Our poor Oliver had been out in the rain since Thursday night, without medication, and finally, someone had found him! I can only imagine how scared he must have been. Unfortunately, the SPCA did not associate Oliver with the missing profile we had created. They put Oliver in a kennel for the night, among all other animals. Without his medication, Oliver must not have been able to handle all this stress… he passed away overnight. The SPCA contacted us in the morning, but it was too late.
We were devastated. We couldn't stop thinking of what he must have gone through without his medication, in the rain for 3 days…. then, to be rescued by the SPCA and still end up passing away.  Our family didn't feel complete without him.
A pet adds so much life into a family; they teach children about love, kindness, and responsibility… so a few months later, we decided to welcome another puppy to our family… Fenway will never replace Oliver, but he definitely made it easier for us to accept the loss of our beloved pet.
Charline & Sean
Doggy parents to Fenway and Oliver who has gone to doggy heaven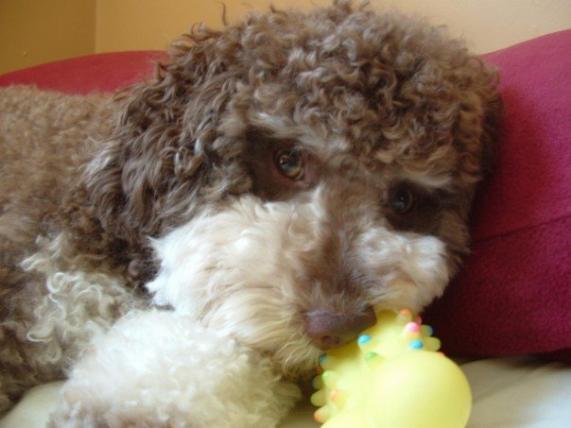 Newton the Bernese Does the Moncton version of Hollywood Boulevard
Alisha Slauenwhite - November 14, 2011
Newton came into my life a little over a year ago. My fiancé and I had been waiting for the moment when we could move from our apartment and purchase our first house together. It was an exciting step for us, mostly because it meant we could start the process of looking for our dog. We had decided on a Bernese Mountain dog because of their giant size and gentle personality. We wanted a hiking buddy that could keep up on our family hikes, but also be a coach potato during rainy days.  He was my heart dog right from the start. There was at least a year wait list, but she knew that we were the right parents for "little" Newton from the start. Two months later he went home with us.
As sweet as he is 99.9%, he has a mischievous side to him as all. All dog owners know this side of their dog well. My most embarrassing/memorable moment with him started on one of our daily walks.
It was a month ago when we went for our afternoon walk. We passed a few city workers who were just packing some of their equipment up from a job they had been working on. The owner of the company had stopped me to chat about the breed (he had a Bernese at home), and to comment on what a lovely dog Newton was. Newton had just been groomed that day, and was looking his best. He pranced with me down to the trail we take to go to the park. He's never caused any issues and the trail is very safe AND off leash (yes!). Yet, this time as soon as I clicked off the leash, he sprinted back the way we came. It was strange, but he usually comes when called. So I called, but he didn't come back.. My heart sank. It's a moment that I believe all dog owners dread thinking, "It's my fault if he gets hurt".
So I ran up around the bend to the top of the trail and there he was, wagging his tail and looking straight at me. He had that look in his eye that said, "Catch me, if you can". That's when I looked at what he was sitting in - WET CEMENT! He looked at me and ran down the entire 15 paving blocks that the crew had JUST finished paving and raking. No amount of coaxing or calling was going to get him out of his cement heaven. He came towards me and then laid down in it. I went toward him and he took one last rip up and down the freshly paved sidewalk, ensuring to completely and utterly wreck every square inch of the freshly raked cement. Finally he came toward me and sat down in the cement. I walked over to him grabbed him by the scruff, looked at him, said NOOOO(with as much control as possible) and got him out the cement. I looked in horror at what my dog had just done. Nothing I could possibly do could fix the damage.  I walked back over the hill with Newton in tow to the crew who had just finished their job that my dog had destroyed. The owner of the company was still there, and I walked up and said "I'm so so sorry for what my dog has just done. I have no idea how to fix this or make it right." He looked at me, looked at my dog (wagging his tail and COVERED with wet cement) and said, "No problem, it's probably just a block or two". We walked over to check it out "Nope", he said. I offered to pay for the cement and overtime, which he politely declined. He said he would have to do some overtime tonight, but at least the cement was still wet and easily fixed. What a nice guy. At the very least, I thought I could treat the people who came in to some breakfast the next morning.
After a extremely thorough scrub that night, the next morning Newton and I took the entire crew coffee/tea and breakfast sandwiches, as we had no idea who it was that had to stay. I've learned my lesson, Newton will not be allowed to go off leash until he has 100% recall. As terrible as it was to face the construction crew with coffee, and apologize for "My dog's" behavior, I will never forget the look of pure bliss on his face as he raced through the cement having the time of his life. Newton is the sweetest dog 99.9% of the time, but the 0.01% of the time definitely makes life interesting. Thank you for reading our story. Please vote for us, so Newton can take his recall classes!
Alisha Slauenwhite
Newton's Mom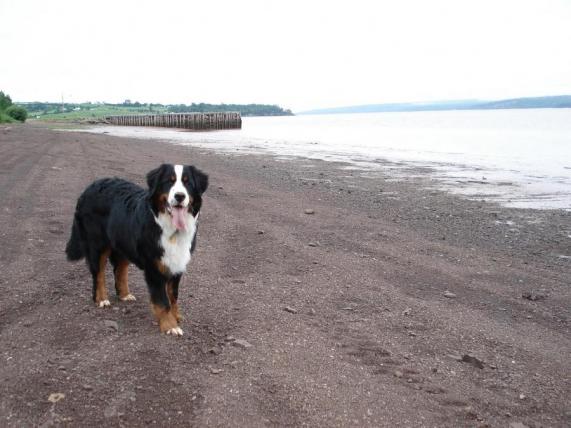 How Lola Met Hendrix – by Tyler Godfrey - November 14, 2011
In November 2009 when we got Lola,  I had no idea we'd have a second dog.  In fact, while I don't regret it at all now, I didn't even want the first dog.
My wife (Sylvie) had always wanted a pug.  We'd just bought our house a little over a year before and while I'd forgotten about it, I had promised a few years ago that she could have her dog when we got a house.  I just wasn't prepared to get one right at that moment.
We'd come across a good deal on a Blue-ray player at Costco and, being a bit of a techie and self-confessed audiophile, settling for the cables that came in the box to connect it to our home theater wasn't good enough.  I had to use the best connections that both the home theater receiver and the blue-ray player had in common.  The best place to get any audio and video cables, for those who don't know, is Princess Auto – right next door to Pets Unlimited, who at that time still sold dogs.
Since Sylvie wasn't interested in going into Princess Auto with me, she decided to go into Pets Unlimited instead and jokingly told me she was going to buy a pug.  Specifically she always wanted a female pug that was fawn in colour.   Wouldn't you know it, in the 10 minutes I was next door buying A/V cables, Sylvie found a fawn coloured female pug.  By the time I went to go meet her after completing my business next door; Sylvie had fallen in love with Lola… and had picked out her name.
At first I tried to resist and I think I did pretty good considering how cute Lola was.  But Sylvie's look of disappointment on her face when I tried to say "no" was much more effective…that and she was so adamant about getting this specific puppy; that I knew if I didn't give in, I'd be sleeping on the couch. ;)  So at 13 weeks old, Lola joined our family.
Fast forward a few months and Lola had won me over.  She loved to cuddle on the couch with me while I watched T.V. and she loved to curl up in Sylvie's arms.  But, as all of you who've gotten your dogs when they were puppies know…puppies are full of energy!  When that energy is not burned off sufficiently puppies also get into trouble.  When I was home, she was usually quite well behaved because she slept most of the afternoon; but around 6pm, when I was gone off to work, Lola turned into a little monster.  She would unravel the toilet paper; she was constantly barking at the cats; and when she wanted to play or have Sylvie's attention and she was too busy to give it Lola would take her clothing in her mouth and tug and pull- often ruining Sylvie's clothes in the process.  It was mid-January, and too cold for Lola, who at that time weighed about 10 lb.'s, to spend much time outside.  We could only walk her a short distance before she would start to get chilly and it was quite obvious the reason for her sudden bad behavior was that she was getting bored.
After a few weeks of this and daycare at Doggone Pawsitive being something we hadn't yet considered; we began talking about getting her a playmate.  Her biological brother was still at the Pets Unlimited in Dieppe, but we felt they were asking a lot for a puppy that was nearly 5 months old.  We also had concerns about how easily he could be house trained after spending so much time in such a confined space - as well as all that valuable time lost that is said to be the best time to start your puppy's obedience training.  There was also an 8 week old litter of 3 pug puppies that had arrived at Brenda's Bowtique that had been there a for a few weeks before we started considering another dog. Whenever we would stop in there, this one particular pug was always very happy to see us and he and Lola seemed to be quite drawn to each other.  We didn't know it yet, but this was Hendrix.
Another couple of weeks passed and we decided to go ahead with our idea to get Lola a brother.  Pet's Unlimited had dropped their price on Lola's biological brother a bit and we decided if they would come down some more we would bring him home.  We called them and raised our concerns about our ability to train him after being there for so long;  but they wouldn't come down in the price any further.  So, we went to Brenda's and talked to them about buying one of the 2 remaining pugs they had. One of the 2 male pugs had been very friendly with us when we'd seen him before and was full of kisses.  He was also the one that seemed to take a liking to Lola.
We arrived at the store close to closing time on Valentine's day 2010 and while we were going to pay more, we'd reached an agreement on the price of our new addition and decided on the larger of the 2 males after bringing Lola into the store and letting them run loose in the store together.  They got along so well, we just had to get him.  They were so cute together.  Especially, when at one point, we saw 5 month old Lola being led around by this 12 week old little butterball that was almost the same size as her at half her age.
People thought we were crazy getting 2 puppies so close together, but it was the best thing we ever could have done.  Hendrix is still full of energy but between the help we've gotten from Doggone Pawsitive and Daycare; we are better prepared to deal with it and drain his energy.  The pair are inseparable and do everything together and while there have been moments where things got stressful because instead of playing with each other and draining each other's energy as they normally do, occasionally they would team up to get into mischief; I don't regret getting Hendrix and Lola.  It seems funny to think that 2 years ago I didn't even want a dog, and now I don't know what we'd do without them.
Tyler & Sylvie
Parents to Lola and Hendrix Pugs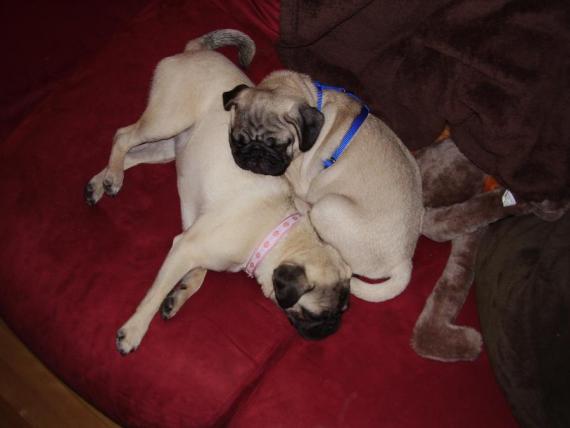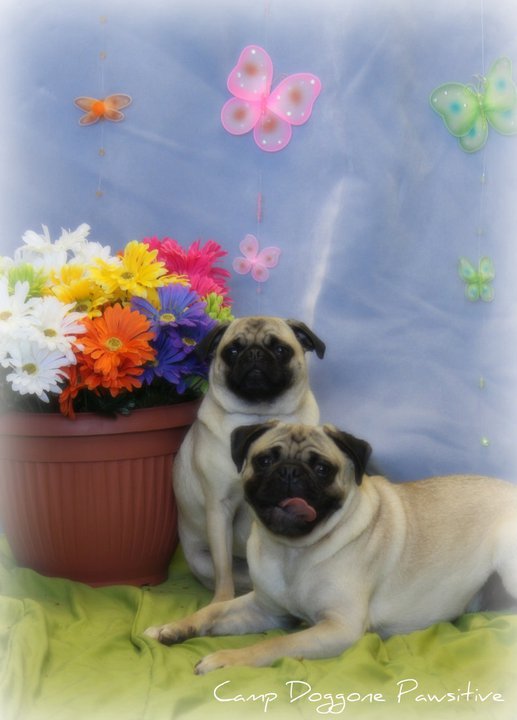 The World According to Max - as told to Marlene Oulton - by Max - November 15, 2011
Hey Pawsitive Peeps!
Mom told me about your contest and that you were looking for stories from us 4 legged furballs, so I made her sit down at her 'puter and write up mine. Of course, I'm the brains behind all da words, but since I only have 4 paws I made her type it up as I dictated it to her.
Frankly I think this picture she's attached isn't my most flattering as it was taken after my first haircut (that barber was brutal, man!) and I swear I lost over 50% of my pride and joy… my fur, people! I know what you were thinking! And yeah, I think my 'real' pride and joy is due to be snipped away sometime in December (shudder!) I ain't gonna think about that right now if ya don't mind.
Anyhow, here's a story for ya. Hope ya like it!
Slurp's to all my 2 legged friends over there! Miss ya!
Hey, all you funny looking 2 legged critters! My name is Max, and they tell me I'm a Havanese/Shih Tzu mix dog, but that means nothing to me. As the old saying goes, you can always be pretty sure who your Mom is, but your Dad could be a whole different story! Plus I just love my fur coat so who cares what breed I am.
But I digress.
I was born on June 30th, 2011, way up in the northern part of New Brunswick, but I ended up moving in September to my new digs in Moncton. Man, that drive was brutal! There I was, happily napping in my cage with a bunch of my pals when this tall man with kind eyes picked me up, put me in a cardboard box (great to chew on by the way), placed me in the front seat of some sort of moving machine, and wham! 5 hours later I arrived at a new home.
My new non-fur covered Mom was so happy to see me that her eyes leaked when she picked me up for the first time. She kept telling me over and over again that my name was Max, (I really wanted to be called Gizmo but she couldn't read my mind, so I guess I'm stuck with Max), and that she was super happy to have me join the family. I have to admit, I was pretty taken aback at first when I found out that there was another dog living in the house, and a GIRL at that! Pfft! What's up with that? Frankly I'm not that interested in girls… yet, but I've learned to put up with Angel (she's a West Highland Terrier with NO sense of humour), and I can easily put her in her place. A quick nip on the ear or a snap at her tail with my razor-sharp baby teeth usually gets her pretty wound up. I don't get this chick at all 'cause I just want to play and she's all in my face, growling and telling me to back off. Oh well, since when have guys ever understood girls? One of life's greatest mysteries I guess.
I really haven't got many complaints about the new place, as my adoptive Mom and Dad have bought me a bunch of way cool toys to chew and play with. I also discovered a neat chew device called 'baseboards' which surround all the doors in the house. Plus, as an added bonus, they have this wooden round thing in the kitchen that they call a table, and man, let me tell you, it has these mega-huge chew-legs on it! Frankly though, I'm kind of getting tired of hearing, "Max, no… Max… no" all the time. Geez, just when I get all comfy and settled down for a round of light snacking on that table, either Mom or Dad picks me up and takes me somewhere else. I'm beginning to think that Angel isn't the only one with no sense of humor in this place.
Another thing, for some strange reason, they expect me to go outside every time I have to go to the bathroom, and I'm not sure why as there are perfectly good floors in this place just made for peeing on! Oh well, they've got me on the 'pee on demand' schedule where I have to go every hour and half… AND I have to go outdoors to do it. Oh, forgot to tell you. A couple of weeks ago, on one of those "Go pee Max" sessions outside, there was this white crud on the ground. Where did that cold stuff come from? And they wanted me to go in that? Are they serious? Give me a break, people! I've never seen that stuff before! But ya know what? I found out that if you lick it, it turns into water, so I'm guessing it must be some sort of huge water dish that got really, really cold. I'll figure it out in time.
Well, I have to go now because my Mom just gave me the eagle eye and said it's time to head outdoors… again. I swear she has a stop watch on her desk that beeps every hour and a half! She's pretty cool though because she took me to school with a bunch of other cool dogs at Doggone Pawsitive. Now THAT was fun!
Anyhow, stay chilled peeps! And remember, I'm a dog, not a person for heaven's sake. And I only can understand about 50 words so don't be yapping at me 'cause all I hear is, "Max, wa wa wa wa wa wa wa wa… out!"
Sigh… I gotta go pee. Catch ya later!
Max & his mom Marlene Oulton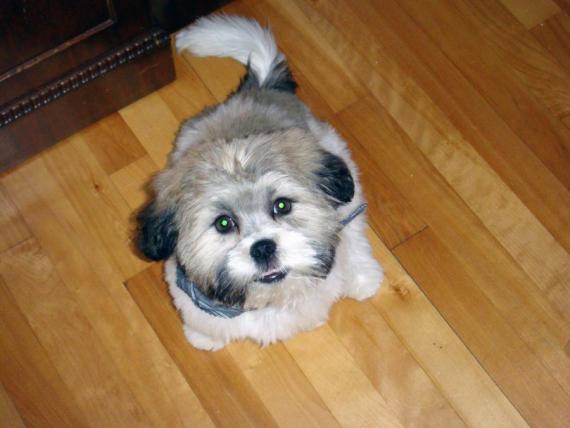 Kobe's beginnings… Kim Gould - November 15, 2011
Well, I thought I'd share Kobe's story of his welcome into mine and my family's life.
The time was coming when our beloved family dog, Dusky, a mini poodle, of 15 years, was showing signs of his age. Dusky was probably mostly blind and deaf but when I came over for a visit, let me tell you, he mustered up the energy for me to chase him around the house! He just loved it!
Mom and dad talked off and on about the day we'd have to put him down, it was coming but I would always change the subject, I just didn't want to deal with it.
I was never a dog lover, always had cats until mom and dad decided to get my sister a cute little puppy and that was it, I was in love! Needless to say, once my sister left for College, "her" dog quickly became "our" dog!
I decided I wanted my own dog, I was living in an apt at the time and my landlord said that I could have a dog, as long as it was a smaller dog. I was super excited and started looking on the SPCA website and Kijiji.
Then I saw a picture of Kobe on Kijiji, OMG, the fluffiest, cutest thing I'd ever seen, had to have him!
I contacted the owner and he said that Kobe wasn't ready to leave his mama yet but would be in a couple of weeks, he was coming from Bathurst and I would be contacted when and where to pick him up.
I received a call one morning at work from my dad saying that him and mom were bringing Dusky to the vet, the day had come, he was in a lot of pain, mom couldn't even pick him up without oven mitts as Dusky was not himself at all, snarling and biting her like crazy everytime she went near him.
In a way, I'm glad I got to see that as I just didn't believe mom and dad when they said that is was his time, I always saw the awesome, playful, loving side of Dusky but I didn't live there and never saw anything other than that.
I thought it would be me that would take it the hardest, I loved that little guy so much, but in the end it was mom and dad that took it the hardest, mom said it was like losing a child, he was dad's little buddy.
We planned a family trip to Maine, we just needed to get away, do anything other than think of Dusky all the time.
In the middle of all this, literally 3 days after Dusky's passing, I got the call from Kobe's breeder, he was ready and I would be getting him the next day……I almost forgot I was getting a dog.
Still grieving and not sure how my parents would react as I talked about getting a dog but with everything going on, I never had the chance to tell mom and dad that I was actually getting a dog.
I was very excited but very sad at the time, how am I going to introduce a new dog after just 3 days of Dusky passing?
My boyfriend and I went to pick up Kobe, I was completely overwhelmed and started crying, he was so cute, he was mine and I was missing Dusky like crazy.
We drove around for a long time, should I bring him over to mom and dad's? In the end, I really wanted mom and dad to meet him, I thought maybe? it would take their mind off Dusky alittle.
Mom was upstairs, dad was downstairs, we went downstairs to introduce Kobe to dad.
It was so emotional, I get teary eyed just remembering it.
Dad just looked over, saw Kobe and just started crying, he couldn't say anything.
We called mom downstairs.
Mom didn't really cry at all, she just grabbed him out of my arms and started cradling him in her arms, talking to him, she seemed so happy to see him.
I was so relieved that mom and dad looked so happy again and I could start to enjoy my little man and they had a new granddog.
I remember our first visit to the vet, it's the same vet that mom and dad took Dusky.
I walked in with Kobe, sat down, and remember Dr Mather coming over telling me that Dusky's ashes were ready to go, wow, that was so strange.
Introducing my new dog to Dr Mather while picking up my old dog's ashes……
Purposely, I brought Kobe over to mom and dad's every morning for the first few months while I was at work, I knew they would love it and they did.
Dad wound up taking a stroke not long after all this, it was very hard. He sat me down in the hospital one day and said that when he gets stressed, he looks at a picture he has of Kobe and it relaxes him so I brought that picture of Kobe to him while he stayed at the hospital.
The picture is now framed and sits on my dad's night stand.
We actually wound up taking our family trip to Maine before dad's stroke happened and that was Kobe's first introduction to Doggone!
I needed a babysitter for the day as my boyfriend didn't come with us, he had to work but insisted that I take this family trip.
Doggone took in Kobe for the day! He was still too small to play with the other doggies so he was kept in the puppy nursery in the office - and almost 2 years later, he's still a part of the Doggone family.
To this day, mom and dad say that Kobe was their saving grace to help to them get over Dusky and dad has a new little-big buddy LOL.
When I say to Kobe…"wanna go see Nan and Grampy???" he goes bananas!
Needless to say, I had to move, my "small" dog is now over a 100 pounds! But we now live in a nice new home and very happy.
Kim Gould
Mom to little furchild - Kobe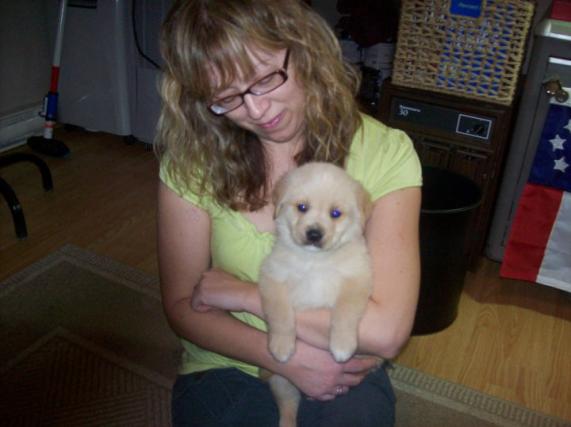 It Was the Best of Times. It Was the Worst of Times - Crystal Byron - November 16, 2011
Remember last winter; record snowfalls, weekly snow storms, howling Nor'easters? If you do not have selective amnesia you will shudder and remember that was the winter that had everyone packing their bags for Arizona.
What was I doing? On Christmas Eve we picked up two 7.5 week old puppies. While I am generally the catalyst behind the accumulation of animals in our menagerie, I put the blame of getting two puppies from the same litter squarely on my husband's shoulders as he said that fateful day, "I don't know. I'm not sure I can choose!"  I tried to be the voice of reason, I did research on why you should never get two puppies from the same litter, I read horror stories of the  hardships and trials and training involved; but when I went to the bank machine, I got enough money out for two – just in case.
Now I should also say, we already had a dog just entering her teenage phase. She was so good we thought – the more the merrier!
Thus it was we found ourselves attempting to housetrain two tiny Jack Russell/Mini Dachshunds in the worst winter in a decade.  I remember running to the door with an armful of puppies, kicking it open only to discover the snow had drifted back up on the door since the last mad rush outside; stumbling half asleep downstairs in the dark for their 4am potty outside and taking them out only to have them come in and immediately poop as soon as my back was turned. We made what we termed "The Peegloo", basically a topless igloo, in an attempt to protect the little shivering puppies from the wind as they found themselves freezing and bewildered with a human looming over them telling them to GO PEE!  in increasingly exasperated tones.
We eventually made it through the winter with lots of help from Camp Doggone Pawsitive, and Kirk (so named for his propensity toward melodrama  a la William Shatner) and Bean (only die hard science fiction fans will get that reference), joined Dax their older sister in weekly puppy classes.
As they got older, then the real work began. We discovered we had three reactive (I'm talking barking at airplanes!), independent, stubborn, energetic terriers that became a nightmare when walked together. I described them as my Cerberus, the mythical slavering 3-headed dog that guarded the gates of the Greek Underworld.
This summer I spent my weekly vacation days training my dogs. I could only walk one at a time, so I would bring one out for an hour walk, go home, pick up another, rinse and repeat 3 times.  Some days I would spend over five hours training my crazy mutts. Shelly came to my house to give me one-on-one training lessons. I would meet Shelly and her dog at the park to have them practice meeting other dogs on the trails without insanity ensuing.  I read every book I could get my hands on about dog training.
Now the puppies are a year old and Dax is almost two. Our friends and family now say they see a major difference in them over the last few months. Everyone is marginally calmer and infinitesimally more obedient.  I still can't walk all three together, but I can get away with walking two with a minimal amount of pandemonium. I consider it a major victory in my quest to just be able to walk my dogs with no pulling, barking, lunging – you get the picture.
On the other hand, I love the fierce independence of the Jack Russell and Dachshund mix. I like the way they seem to question my authority and test my limits of patience, endurance, love and commitment to positive training methods.  I'm not sure I would know what to do with a dog that hung on my every word.
As a result of my experience with my Terrors, I have decided to volunteer as a dog walker at the SPCA.  I figure if I can train my brood, surely I can help some dog learn enough manners to have a better chance at finding a forever home.
Crystal and Jeremy
Zookeepers for the dogs Dax, Bean, and Kirk,  and tolerated by cats Scully, Mulder and Neo.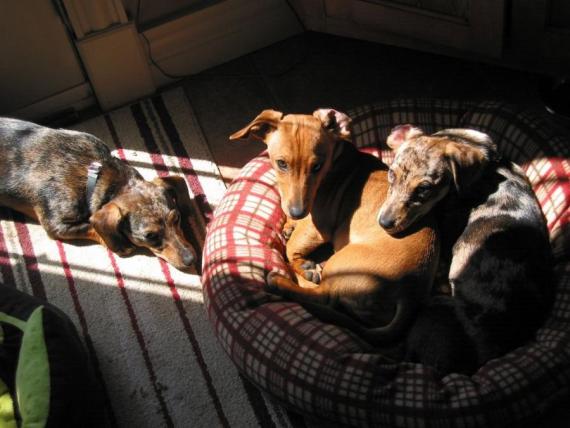 A New Home for Clancy - Sylvie Blanchard - November 18, 2011

Back in August 2007, my daughter just happened to meet a friend (from daycare) at the ice cream stand.  I started speaking with the friend's father, who was telling me about trying to find a new home for their dog.  I immediately jumped at the chance and haven't looked back since.  I still remember the Friday night I went to meet Clancy. He was the perfect size, perfect personality, perfect dog!! Needless to say, I brought him home.  My mother wasn't too thrilled about it but I reassured her that everything would be fine.  He quickly befriended her...

During the last 4 years, I have been so grateful to have Clancy around.  He's been like a big brother for my daughter.  But his biggest contribution was that he was my mother's companion during her last few years.  It was a relief to know she wasn't alone while I was at work and she became quite fond of Clancy.  He made her laugh, kept her company during the day, kept her warm, and let her know when someone was at the house. These are just a few things he did for mom.   When I got home from work, I really enjoyed getting "Clancy updates" from my mother.

My mother passed away just over a year ago.  I miss getting those updates; however, I'm sure she's watching over us and laughing at his quirkiness.  Clancy needed to adjust to her no longer being around but he's ok now!!

Clancy has also made friends with someone else - Sophie.  Her own dog pasted away a few months before she met Clancy and due to the fact that she lives in an apartment, she is unable to have her own dog.  One day, Sophie asked me if she could take Clancy for a walk…she hasn't looked back since.  She takes him out every day on her lunch hour (or in the morning before work and sometimes after work!!).  She loves Clancy like he's her own!!!

Needless to say, we are all very happy to have found Clancy and can't imagine not having him around.

Kind regards,

Sylvie & Danika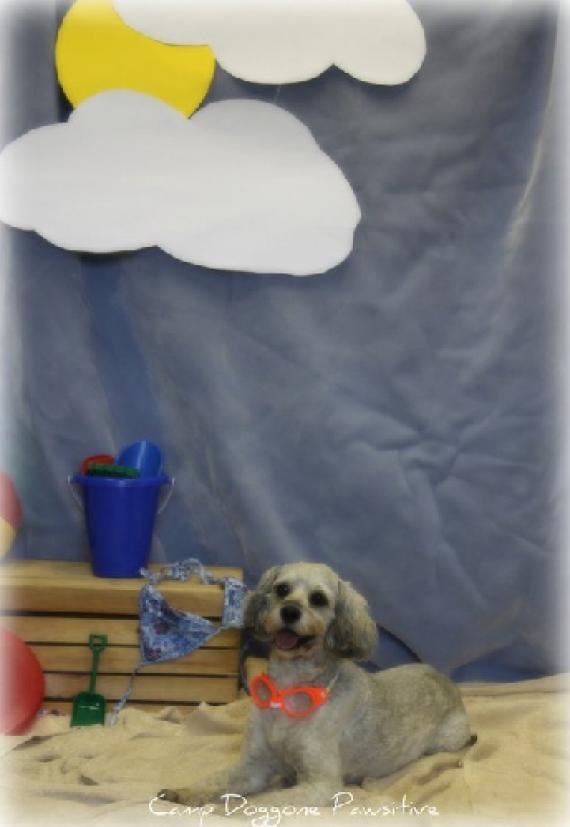 Miss Bee - Lena Hotham - November 17, 2011
I never considered myself a "dog" person…and then along came "Miss Bee". It all begins with my daughter Jescynda and her boyfriend Alex…
Jescynda attends the Nova Scotia Agricultural College in Truro. This is her third year. The first year she studied pre-vet medicine, as she always wanted to be a vet, since she was four years old due to her love of animals. Second year she changed courses to study environmental horticulture, as she loves to golf and wants to work the gold courses – which she presently does during summer vacations.
Jescynda has always wanted pets, especially a dog, but due to being asthmatic and allergic, she has never had one at home.
So low and behold, one sunny June 12th, Jescynda says "Mom I'm mowing the greens this morning, and in the afternoon Alex and I are going to golf. I probably will not be home for supper." That was no problem with me, as I did not need the vehicle that day.
I was sitting out back in the sun room when at 5 o' clock, Alex comes flying around the corner and she asks me to come and sit back down and cover my eyes with my hands… they have a surprise for me!
I thought, "Oh my goodness, she has bought me that nice pair of earrings that we looked at and admired last week at Costco.
As I am sitting in the chair, with my eyes covered, I hear Jescynda approaching. The next thing I feel is a soft wet furry ball in my lap. They both tell me to open my eyes and there is this white furry puppy squirming in my lap.
Being recently separated, I had promised her when all was settled, that I would buy her a puppy. I never in a million years dreamed that it would be the other way around. I couldn't afford to buy a puppy, so I had put that promise on hold in the back of my mind.
She said to me, "Since I am going back to university in the fall, and you will be all alone, I did not want you to be lonely so I got you a puppy to keep you company. Everyone knew about the surprise: Everyone at the golf course, my family and all of my friends!
She had saved all her hard-earned money and drove that morning to Sunny Corner, Miramichi to pick the puppy up. She had purchased a crate, food, dishes, toys, collar and leash. She was well prepared.
Why a "Westie?" Jescynda had done a lot of research on Westies online and she knew how much I loved them! I knew they did not shed and were non-allergenic.
We all had a share in naming her "Miss Bee".
To be totally honest, my first reaction was, "What am I going to do with this puppy?" I knew nothing about dogs, let alone a puppy… I was terrified!  But I didn't want to break Jescynda's heart.
A few weeks later, I was talking with my next -door neighbour, and she had mentioned that a co-worker had recommended Camp Doggone Pawsitive for puppy training. I immediately signed up. It was the best decision I have ever made for Miss Bee and for me. It has given me a ton of knowledge about puppies and on training them. It has increased my self-confidence in my handling of her and to know that I am doing it in the correct way. It is a lot of very hard work, but it reaps many rewards. Now, I wouldn't part with Miss Bee. She is one of the best things that has ever happened to me…. and I can't thank my daughter enough.
Miss Bee continues to go to puppy daycare at Camp Doggone Pawsitive one or two times a week. She loves it so much. As soon as I turn the vehicle onto Roy Brown Street, she knows exactly where she is going. She gets very excited. I know my puppy is happy and that she is well treated and well loved there. All of the staff members are very knowledgeable, and extremely helpful. They conduct themselves in a very professional manner.
At the end of the day when it is time to pick up Miss Bee, she is very excited to see her "Mummy". She is so funny and adorable. I enjoy her very much.
Thank you all at Doggone Pawsitive from the bottom of my heart.
Lena Hotham & Miss Bee
Note a picture of Miss Bee will be available by Monday or Tuesday November 21,22nd
Snuggles Story – As dictated by Snuggles to Mom Cindy Cudmore November 18, 2011
My name is Snuggles. I am a Shih Tzu. I got my name because when I was a baby I was really small and liked to Snuggle.
I have two older brothers named Snoopy and Snowball. They are kitty cats. I have lots of adventures with my brothers – when I was a baby they let me do anything I wanted to them. I tried to sneak their food and toys. I took all their toys from them and put them in my own basket and now I keep them all for myself. I always chew up their toys instead of my own J
The most fun I have though is chasing and jumping on my brothers. Because I am bigger than my brothers now  - I can jump on them and nip their toes and their ears. They don't like that at all and sometimes I hurt them and they cry – then my Mom comes and takes me away from them.
When I go to the cottage in the summer I also have lots of fun. I like to chase other dogs, cats and squirrels. I like to swim in the water and roll in the sand and mud and get all dirty. My Mommy gets upset at me when I do this because she has to give me a bath. If I can find some really stinky garbage I like to roll in that too because I like to be stinky…but my Mom always makes me wash off under the hose.
I also have a special neighbour person who lives in my cottage area down the street. I know when she is going to come home from work every day so I sit by her front door because when she gets home she gives me special treats.
I like all the fun things at my cottage but I do miss my doggy friends from daycare at Camp Doggone Pawsitive. When we come back to our house in the fall I always glad to see my old and new friends… especially my best buddy Chewy.
Snuggles and his human Mom Cindy
Note a picture of Snuggles will be available by Monday or Tuesday November 21,22nd
If you are stuck for a story idea to stimulate some thoughts here is a funny a doggy tale from our company founder Shelley Hunter.... and a coming soon a heartwarming tale about a dog whose family Flipped over her.
Dance On - Shelley Hunter September 2011
Take yourself back in time to the year 2000 – Latin dance was all the rage. That was the year I decided that learning a new dance routine would be a good idea.
I had the ideal dance partner - strong, muscular, a bit hairy but he loved to have a howling good time.  His name was Tuvaq and he was my one-year old 90 pound Malamute.  Relax… in this story the dog dances on four legs not two.
So here we were the dog trainer with two left feet and Tuvaq the hairy goofy Malamute learning the Merangue and the Cha cha and combining those moves with circles and backing up and twirling and going out and coming back.It was great fun and good dog and owner bonding time. Tuvaq never once complained that he should be pulling a sled instead of learning doggy freestyle dancing (which by the way is a real dog sport).
It seemed to be going well until ….one night we were boogying away in my office around 11pm at night – my only free time to practice since I taught dog training classes daytime and early evenings. I was dancing away and barely noticed a set of car lights shining through my office window as there was a business next door and sometimes people did pull in late. Then a second car joined the light show. When the car lights dimmed… I saw two police cruisers sitting outside my office window.
It was then I realized my office windows are only three feet above the ground and from the parking lot the police cruisers could probably only see me cha cha'ing around in my office all by myself and seemingly talking and gesturing to no one.  My furry dance partner was below the window line – below their line of sight.
I mentally started to rehearse what I would say if an officer came tapping at my office door. Honestly officer I am not a crazy intruder just… a crazy dog trainer dancing with her dog at midnight in my office. Perhaps it would be better to be a burglar.
I immediately took a seat at my computer, cheeks burning red, and started to type furiously away – at what I am not sure – just anything to look busy…. anything to avoid looking out the window. Eventually the cruisers pulled away.
I was so embarrassed after that incident that it was awhile before I danced with my dog again. Later that year I met Perry, my husband to be, and he bumped Tuvaq the Malamute into second place as my dance partner.
Shelley Hunter with Tuvaq Malamute left and Tundra Malamute right
Sadly, Tuvaq the Malamute passed away in March 2011. He was 12 years old. He was my heart dog – a once in a lifetime dog that you feel such a powerful connection with that when you look into one another's eyes it touches you so deeply that it hurts.  He journeyed with me during a huge time of change in my life – from journalist to dog trainer, leader and business owner, from single girl to married, from Malamutes to standard poodles, from car accident and pain to recovery, from doggy mother to the death of my mother … to becoming a mother myself to a baby boy named Liam. Of course, there were lots of adventures in between. Tuvaq was goofy, sensitive and fun, howly and definitely hairy. He is greatly missed. Dance on my friend. Dance on.
Shelley Hunter
Head Trainer/CEO Camp Doggone Pawsitive