Doggone Happy Families
Doggone Happy Familes Shadow
Helen Shadow's mom writes...
I really do feel that I got much more than I ever expected from your lessons...You have done more for my confidence than I can tell you and my goal was met. It was an amazing experience working with you and I know Shadow is in good hands while at daycare.
My own story is my last dog had dog aggression issues and I swore to myself that I would never let that happen again.  I was embarrassed with my last dog, avoided anyone with a dog and did not seek help.  I did not realize the extent of my anxiety until I got the dog I have now and after only a couple of lessons with Shelley my anxiety disappeared and I was a whole new person.  The joy I have with my dog now is unbelievable.  He is not perfect and neither am I but every day we work together and get better and better.
I found out about your services from the internet.  I knew I wanted to use positive training and your website was excellent for info.  And after calling and talking to Perry, I knew I wanted to use your services.
I had not had any previous experience with dog training.
The most important factor for me in deciding to go with training was that I wanted to be sure the dog would be socialized.  I wanted to learn the proper way to introduce dogs and learn what signs to watch for to prevent altercations.  Daycare was always my ultimate goal as I knew it would be a great way for the dog to be with others.
The positive change was the change in me and how I handled the dog.  I learned how to train the dog properly. I wanted the private lessons because Shadow was a grown dog and Shelley was able to adapt her lessons to what I needed the most help in.  I had absolutely no stress during the whole training sessions.  It was fun.
Daycare has been great for Shadow.  He loves going and the girls give me feedback and they work with him if he needs a little work in certain areas.  For me, daycare, means he is playing and learning to play with dogs.
The private lessons were perfect for me.  They lessons were fun and at no time did I feel I was on the clock.  Shelley took all the time that we needed.  It was specific to what my needs were.
Other benefits of private lessons would be scheduling.  It is more flexible than having to go to a certain class at a certain time. She comes to your home and can help with suggestions on specific problems that you might be having.  There are less distractions than if you were in a group of other dogs. As far as daycare goes socialization, socialization, socialization.  Not to mention they come home tired out and content.
I would highly recommend private lessons.  We are fortunate enough we can get lessons to show us how to train our animals.  It makes your life so much better.  Definitely recommend doggy daycare as well.
Thank you again to Shelley and the team at Doggone Pawsitive!
Helen & Shadow
Doggone Happy Families Crosby
September 2011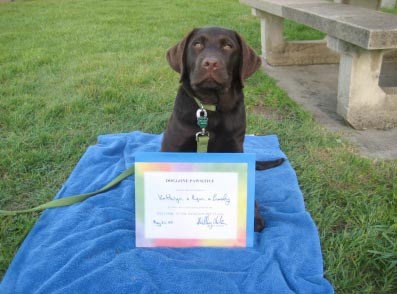 Hi, my name is Crosby and I am a labrador retriever. I started the Doggone Pawsitive Puppy Kindergarden when I was only 10 weeks old.  I also completed the Level 2 Out in the Community class. My mommy and daddy were first time dog owners so they needed all the help they could get. Shelly Hunter was a wonderful teacher. It was very worth it as I have learned to listen well. I am constantly getting comments about how well trained I am. These classes have helped me to be a well-rounded and socialized dog.
At 12 weeks of age, I was introduced to the doggy daycare. My mom thought doggy daycare sounded kind of silly but decided to give it a try. She dropped me off and the girls were so caring that she felt reassured to leave me there. She picked me up at the end of the day. I was so tired that I slept and snored the entire night.  I didn't even feel like chewing anything! That was it, my mom was hooked and I started to attend daycare 2 to 3 times a week. If you knew me, I am actually a very calm lab (really!) but the only time I would get excited would be when I arrived at daycare. I would jump for joy when I realized that I was going to spend the day at Camp Doggone with all the girls and my doggy friends. I had a new nickname...Kangaroo Crosby. I met many new doggy friends and and even got to go to the Doggone Prom. I had to make sure I stayed out of trouble at daycare because at the end of each day the girls would update my mom on how my day was and how I behaved. In July of 2011, I moved to Ontario. I have been to a few daycare facilities but none of them compare to Camp Doggone Pawsitive. Moncton is very fortunate to have such a facility with caring, trustworthy, and knowledgeable dog professionals. I would suggest this daycare and obedience training to all of my doggy friends. It was so much fun!
Thank you Camp Doggone Pawsitive!
Miss you!
Crosby (woof!)
Doggone Happy Families - Rocky, Henry, Buckley, Juneau
August 2011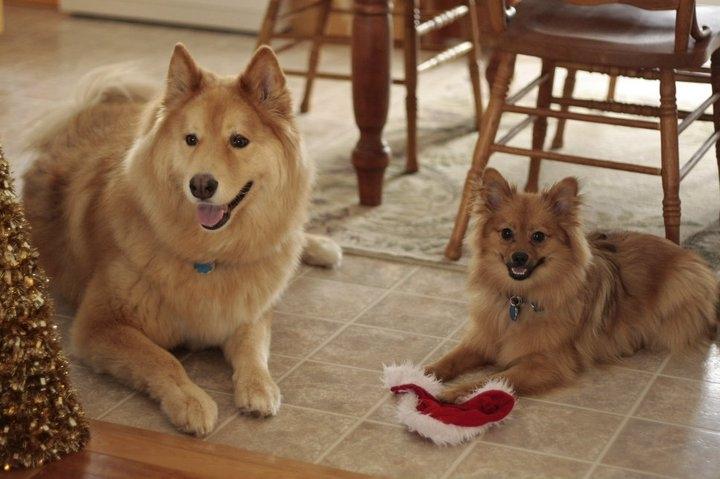 We first came to know Doggone Pawsitive and Shelley Hunter over seven years ago when our family wanted to train our puppy, Rocky. Rocky was an adorable Husky Chow Malamute mix that we brought home from the SPCA at 8 weeks old. He was loveable and sweet but we knew he was going to be a big boy. Rocky picked up on the training very quickly due to the clear and simple instructions provided. Even for a dog of nearly 100 pounds, he became the gentle giant we were looking for. The folks at the SPCA told us that he was going to be stubborn due to his breeds. But, he listened to our every request. With us knowing what to do and how to get him to understand what we wanted him to do, he did it -  without yelling or pulling. With simple hand and verbal gesture, he did what he was told. Unfortunately, we lost our dear companion this winter to a sudden illness. We miss him dearly.
Being a dog loving family and the house being way too quiet, we decided shortly after Rocky's passing to look for another friend or two to bring into our family. In March of 2011, we brought home our Pomeranian, Buckley and in April 2011, we brought home our Malamute, Juneau. Some say we are crazy, but others say we are very brave to bring two puppies into our home at the same time. Other family members questioned our choice of breeds. Mainly because of the size difference but also because of their need for attention. We didn't have many concerns knowing that both Buckley and Juneau would be trained by the Doggone Pawsitive team lead by our trusted instructor and friend Shelley. I'm proud to say that both Buckley and Juneau are graduates of the puppy training program. Buckley loves to bark (as most Poms do) but with great advise from Andrea, we have been able to stop his barking after only a few yelps. And Juneau is the best walker. Being a Nordic dog with his breed loving to pull, I thought he would be taking me for walks. But just after a few great lessons on how to get him to stop pulling, he now is a pleasure to walk. We also received good news that Juneau's play with Buckley is completely safe, with our supervision of course. Juneau is a sock thief, but with the mark "off", he will drop them right away. Oh, what a pleasure it is not to chase them around the house trying to get something out of their mouths. They are still a work in process (with the occasional mistake in the house mostly our fault), as they always will be, but what a pleasure to have dogs that will listen and obey.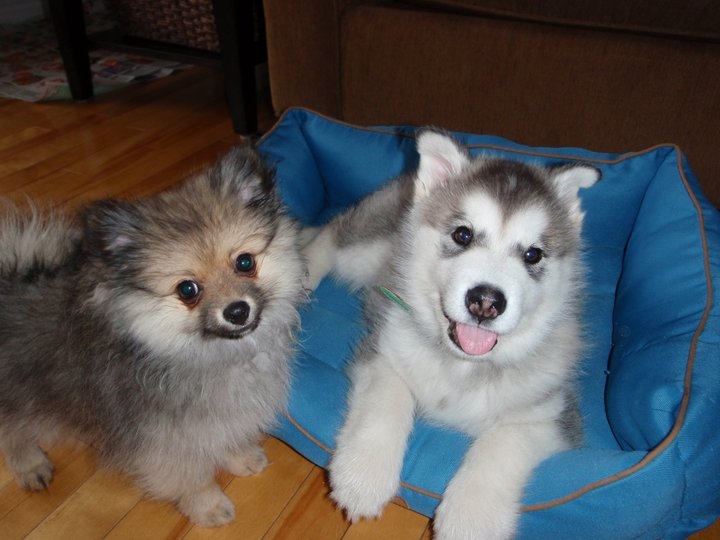 I should also mention that Shelley trained our daughter's Pomeranian, Henry. During the Christmas break of 2008 our daughter Amy Lee, who lives in Montreal brought her little 3 pound dog into our home. We had no idea what to do with him because we always had much larger dogs, and we were not used to the constant barking and jumping. I called Shelley knowing that Amy Lee and Henry would only be home for three weeks. She was game for the task and did one-on-ones with Amy Lee and Henry. We saw instant improvements with his behaviour and Henry left poor Rocky alone.
We are completely sold on Shelley's techniques and can't imagine ever having a dog without Doggone Pawsitive's involvement. Our belief is "it's a dog owner's responsibility to have their pet trained", not a luxury -  for the safety of the dog and anyone who may come in contact with them.
Thank you for making our time with our dogs more enjoyable.
Kindest Regards,
David and Shelley Corkum
Doggone Happy Families Niki
August 2011
Hello!
My name is Niki and I am a 3 and 1/2 year old Labrador Retriever/ Husky mix. My owner's name is Sylvie and she loves me very very much. I was adopted on the 21st of March, 2011 from the Greater Moncton SPCA after being a resident for a year. After reading my kennel card, my future mommy quickly realised that I needed a lot of training. Leash work, crate and house training as well as focus and settle exercises were some of the recommendations. Before going through with my adoption, my mommy wanted to make sure she could find an adult dog training class that would suit my needs. She started doing her research and came upon the Doggone Pawsitive website, after sending an email for some extra information on training, she was quickly contacted by Perry.
He was incredibly helpful!! After talking with him and the rest of the staff, she knew that Doggone would be the ideal place for her and I to learn. Since starting adult training classes at Doggone, I have been amazing!! Don't mean to brag, haha!! I had a tendency to get overstimulated, but I have now learned how to politely great people at the door. With my help and the help of Doggone Pawsitive staff, my mommy has also learned a lot about being a good owner and trainer. Thank you to all the staff and volunteer's at Doggone for helping my new mommy and I with training. Andrea, Shelley, Perry thank you for being so friendly and helpful!!
Lots of wet kisses,
Niki
Doggone Happy Families Shelby
June 16, 2010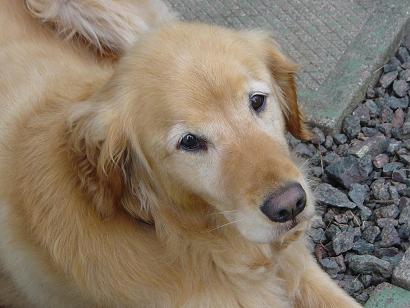 Hi Shelley,
I'm not sure if you remember me.  My name is Angela Ricker, and about 4 1/2 years ago I adopted an adult Golden Retriever, Shelby, from my sister.  Shelby was about 7 yrs old at the time.  My husband and I took her to Doggone Pawsitive for training.  (We have also taken our other dog - Luna - to you about 2 years ago.  Shelby was timid.  Luna is a "spitfire"!).
Yesterday I made the difficult decision to euthanize Shelby.  She had a tumour in her lungs and the prognosis was not very good.  She was 11 years old, and did not suffer although I was worried that she would be starting to be in pain, or suffer when I wasn't there to be with her.
Today I thought of you.  I'm sure you've gone through this type of situation before and you understand, but I'm writing purely to say Thank You to you, your husband, and your business.  Shelby was my first dog that I had as an adult, so I wasn't sure how to train her.  You taught me so many things that helped my relationship with her.  Not just basic commands, but ways to approach her, pet her, and communicate with her that enhanced the bond we had.  She was very timid and all of these things helped put her at ease and make her comfortable in her new home with us.  She was very loved and I felt like she understood how much we loved her.
There's no need to reply to this email.  I guess it's kind of cathartic to write, but mainly I wanted you to know how much I truly appreciate what you have done for our family.  A few short weeks of a training class did much, much more than what I had expected when I signed up.  Your training was priceless in so many ways.
Thank you again,
Angela Ricker
Doggone Happy Families Shelby
January 2011
Good Morning Shelley
This is Cindy Roy (Shelby's puppy mama :)
I just felt it important to let you know how impressed I was yesterday with the customer service I received...I even have a hard time calling it customer service because of the fact that I always feel like more than just a "customer" at doggone.
But yesterday was a bit exceptional in my books. As a background, I've been in customer service for at least 15 years so I'm quite "aware" of the service , (or lack of these days!!) that I receive from various businesses.
But at Doggone your staff has really raised the bar ... yesterday when I showed up to drop off Shelby bright and early at 7:15 as I had a long day ahead of me at the office, poor Tarah, she was working with Jill yesterday morning, and again this morning, had her key frozen in the door and couldn't open up....so she trotted over to my car in the frigid cold and told me she'd be calling a locksmith and asked if I minded waiting, I say no problem, just let me know how long once you speak to them.
She called and came back out to tell me it would be an hour...unfortunately I had to get to the office so I just said ok, no problem I'll just take her home ... Tarah was quick to offer to take Shelby into her Jeep with her dog as they had met before...now at first glance this is not really a big thing, but to me it was...rather than saying "ok sorry see you tomorrow" she immediately found a solution that met my needs and which allowed Shelby to have her day care day - which was great since we had company last night and I needed a pooped puppy...anyway, day in day out I get great service from your team and yesterday's little event just gave me the urge to let you know you're running a great shop with a wonderful team!
Have a great day!!
Cindy, Danny & Shelby
Doggone Happy Families Sadie
Aug. 26th, 2005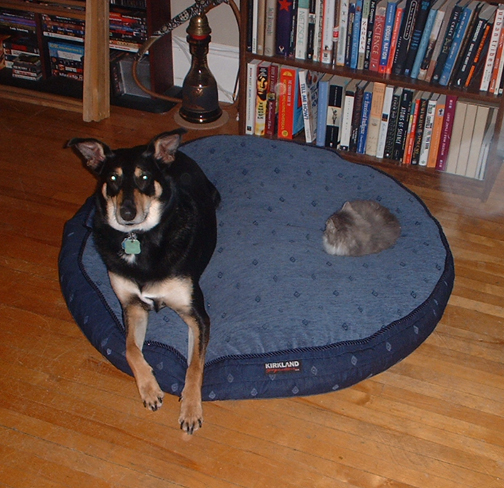 "Mornin' Shelley!
I've only been attending your school for two weeks now, but I have to say, I feel tremendously grateful & fortunate to have access to such knowledgeable and devoted trainers & animal lovers such as yourself, Perry and the all your trainers.  It's so easy to see how much you care about your craft, offering all you can to dogs & their owners attending your classes.  Again, many many thanks!  Your school deserves much praise and recognition.  You are fabulous.
P.S.  The harness is working wonders Shelley.  Sadie is showing no reluctance at all  -  at this point, she slips her head in the harness herself.  It's a treat for her 'cause after conditioning, it means "woohoo!  we're going out!!"  We've met other dogs since Tuesday's class, and the tugging/struggling for both of us has diminished, and Sadie's attentiveness has increased twofold w/ the use of this harness.  From the looks of it, this harness will prove to be catalyst in Sadie's overall training."
Catch ya later (hopefully soon),
Jason